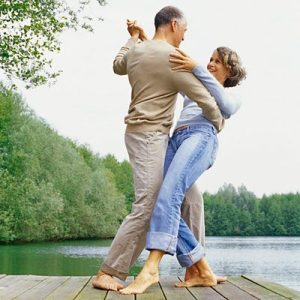 There are many steps that we can take to insure the aging process is not something that overwhelms us. This is true whether we ourselves are the aging person of concern or whether that person is our loved ones. The tips delineated below will guide us through a few of the more critical of these steps.
Eat your veggies! We all were told it as kids and it matters just as much as we age. Antioxidants that are found naturally in vegetables actually will help keep your cells from aging too rapidly. They protect us from the aging that is done to our cells by oxidation damage.
Aging can be a state of mind as well as body. To reduce the feeling that age is creeping up on you, take action and fight back! A healthy diet, exercise and a good attitude about life can keep you not only feeling younger, but looking younger too!
If you worry about aging skin and wrinkles, stay away from the sun! Of course, we all like a little sun, but too much exposure can cause premature aging of the skin as well as increasing the risk of skin cancer. Tanning beds also pose the same risks, maybe even to a greater extent, as people tend to overuse them.
As we age, it is important to keep up on regular eye exams. As we age, our eyes age too and are more susceptible to diseases such as cataracts and macular degeneration. These conditions impair vision and make walking and driving more difficult, which can in turn impose danger to ourselves and others.
Don't get caught feeling and acting old! Spend time with children! Volunteer at a daycare or a church nursery where you can feel useful and engage in childish activities. Keep in touch often with grandkids and have them visit often. Children will make you feel young and joyful again!
Exercise can improve the aging process. As we get older, our muscle mass naturally declines, making everyday activities more difficult and reducing the number of calories we burn. While aerobic exercise helps maintain muscle mass and control weight, resistance exercise has the added benefit of helping maintain bone mass.
Try to quit smoking or reduce the number of cigarettes that you smoke each day. Smoking is one of the leading causes of preventable death. However, it is never too late to stop smoking, and as soon as you quit, your risk of having a heart attack decreases. By quitting you could also save yourself a lot of money.
When thinking about your aging process, if you are moved to be emotional, be emotional and then let it go. Don't mull over it. Aging can be tough, and tears will happen. Make a big effort to just move on to the next thing in your amazing life. This will help keep you positive and motivated.
If you want a tasty way to reduce the risk of osteoporosis, try adding soy to your diet. Soy contains calcium and plant estrogens which help prevent the loss of bone density. You can use soy flour in your favorite recipes, snack on soy nuts, or use soy milk and cheeses.
As you grow older, many hear the reminders of how important it is to eat healthy everyday; a treat once in a while can bring a smile to your face. Don't you just love to eat your favorite food? Maybe chocolate chip cookies are your pick? Bake up a batch and enjoy them with a friend or family member. Enjoy the companionship of someone you love with something you enjoy!
Even if you have never had a massage in your life, go and get one on a regular basis. It is not only great for your body to get the blood flowing and the tense muscles relaxed, but it will also be good for the soul. It will feel great and leave you feeling wonderful and happy.
Sleep is an important part of looking and staying young. Most people need between seven and nine hours of sleep each night. Lack of sleep is proven to be related to many health issues, including depression and cardiovascular conditions.
Take the time to stretch each day. If you can retain your flexibility, you are sure to stay mobile and more independent for many more years. Many muscle and skeletal problems come from poor flexibility and if you continue to do stretches each day, you are sure to have far less problems.
One solid piece of advice for to maintain good health as you are aging is to eat a balanced diet. A diet which is well-balanced includes meals rich in vegetables, fruits, and whole grains. Make sure you limit your intake of trans fat, saturated fats and cholesterol. By eating a well-balanced diet, your body is supplied the essential nutrients it needs to maintain optimum health.
Everyone says it is good to remain active in your old age. This is true. It is also true that this is the right time to step back and contemplate life. What was truly valuable? What was a waste of time? What would you advise your grandchildren to do?
Everyone suffers from a certain amount of stress in their life, but in order to keep the aging process slow and graceful, it's important to keep stress at bay. A great way to do this is by practicing relaxation techniques. There are a wide variety of techniques available including meditation, yoga and tai chi. Pick the method that you are most comfortable with and be sure to practice it several times a week to slow down the aging process.
As our body ages and we don't always feel well, small adjustments in our daily life can make a big difference. Are you stiff and sore in the morning? Perhaps it is time to get a memory foam topper for the mattress. Such changes can help extend the time of feeling well and capable.
Preparation is the key to successful aging. We can take those steps ourselves, but it is imperative that we do them in a timely manner. The hints above are a guide to light our way. They can prevent some of the confusion and the feeling of being completely overwhelmed that sometimes accompany this stage in life.